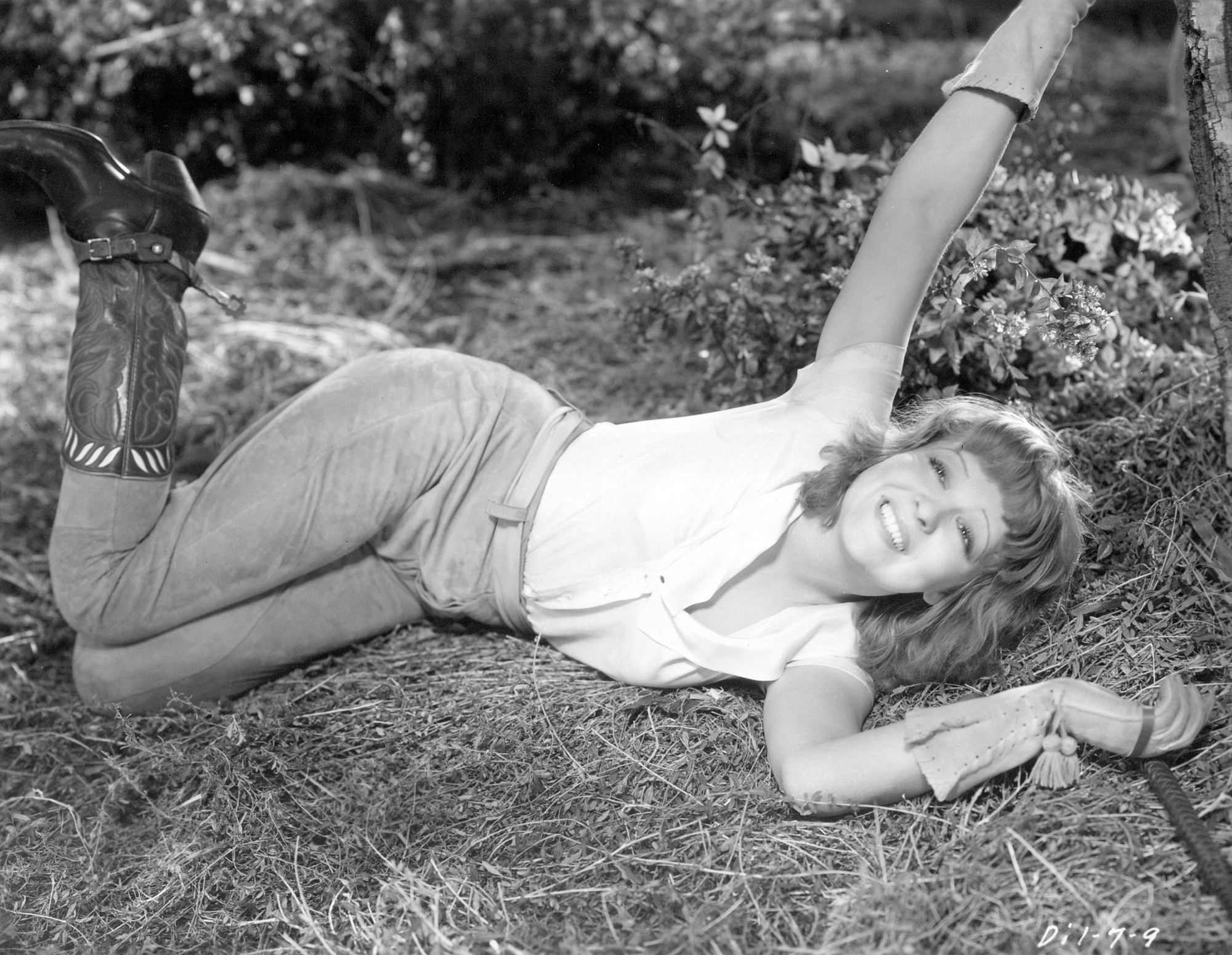 Ohhhh boy.
This flick runs the gamut of then-scandalous themes that pre-Codes are infamous for. Portrayal of infidelity, gratuitous shots of bare legs and undergarments, a bout of insanity from syphilis leading to an attempted rape, prostitution, death of an infant, slumming it up in an anarchist/gay bar, with entertainment provided by singing waiters dressed as maids...
Clara Bow's penultimate film,
Call Her Savage
came on the heels of her departure-in-disgrace from Paramount in April of 1931 following a series of scandals that damaged her fragile emotional state, ultimately leading to a much publicized nervous breakdown. In December she married cowboy actor Rex Bell, and the couple left for his ranch in Nevada, where Clara was able to recuperate in peace. Right after, Clara made her return to Hollywood, signing a two-picture deal with Fox Film Corporation. With this in mind, we see why
Call Her Savage
was touted in the papers, magazines and heralds as her triumphant comeback; a
new
Clara Bow, back and better than ever.
Worth noting was that her time at Fox was the first time in her career that Clara had some semblance of creative control over her films. She was free to choose the story, the director, and the leading man. Gilbert Roland—her old co-star in
The Plastic Age
and to whom she was engaged for a short while in 1925—was picked as her love interest.
The movie starts off with a covered wagon sequence, complete with an attack by a stereotypical band of "Injuns", setting up the theme of the sins of the father being passed down several generations. But, don't be fooled: this ain't no dusty Western!
Based on the controversial novel by Tiffany Thayer, the film follows the life of wealthy Texas heiress Nasa Springer (Clara Bow), a woman whose wild, unruly and headstrong ways make her a pariah among the upper crust. Her father Pete (Willard Robertson) is strict and a bit of a hard-ass who doesn't have much of a relationship with his daughter; at least her mother Ruth (Estelle Taylor) is able to show her some genuine love. Her only true friend is Moonglow (Gilbert Roland), a half-Native American man who lives near the family ranch.
In the following, I basically run through the major events of the film.
The film still stirs up controversy nearly 90 years later, thanks to the ending which has been described as racist. I mean, it
does
come off pretty racist (Nasa realizing that her wild ways are due to being a "half-breed", and she can only find true happiness with Moonglow, a fellow "half-breed"). It's an unfortunate aspect of the film that has aged poorly; on the other hand, however, it opens us up to some valuable dialogue regarding the eras historic portrayals of race and inter-racial relationships.
Jam packed with story and melodrama galore,
Call Her Savage
is a showcase of Clara's range as an actress. After a rather awkward start in her first few minutes on screen, we see what Clara was capable of given a vehicle that she could really sink her teeth into. During the depressing middle section, the film reaches its seediest lows. Clara handles the whiplash from defending herself from her syphilis ravaged husband, to the beautiful moment where she cuddles her new baby and the audience can't help but smile; from gazing out her apartment window at the dirty streets realizing what she must do to get medicine she can't afford, to the stomach drop of realizing what has happened after seeing her fire ravaged apartment and her haunting scream. Clara was really such a talented actress, and I think
Call Her Savage
is the best talkie example of what this woman was capable of.
Ah... what could've been had Clara not retired from the screen. Unfortunately, her comeback was not to last; after finishing her two picture deal with Fox, Clara left Hollywood for good, having only returned to acting to make enough money to build her and Rex's new stately home in Nevada, the Walking Box Ranch. Sometimes I think of the heights she could've reached had she continued; she had the chops. But, if she didn't have the enthusiasm... well, I'm glad we were left with what we were left with.